The Nighthawks are hockey's new expansion team. They're ice hot. And they're all about the chase.
"A fresh take on the celebrity athlete romance, veering from scintillating to surprisingly heartfelt…" Apple Books (one of Apple's most anticipated releases)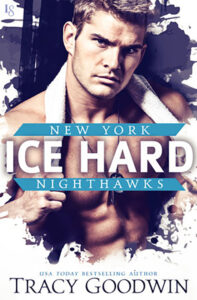 Hockey's resident bad boy is hell on skates. But when he falls in love, he falls hard.
Nick: As one of the New York Nighthawks, I've got it all: fame, success, wealth, plus I'm handsome as hell. As for my relationships? They could be better.  I know how to do one-night stands, but I'm starting to crave something more. Then I meet Camille Benetti.  She's sexy, smart, sarcastic—totally my kind of girl. The only problem? Cami doesn't date hockey players. But she's never met me. . . .
 
Cami: Nick George is impossible to resist. Not only is he scorching hot, he's kind, he's funny, and he wants me bad. But I learned my lesson the hard way: no jocks. So why do I agree to be Nick's date to the wedding of the year? One night . . . that's our deal. He is the best man, after all. But Nick is crystal clear about his intentions. He wants a relationship. And he's tempting me to break all my rules. . . .
Tracy Goodwin's seductive New York Nighthawks novels can be read together or separately:
ICE HOT • ICE HARD • ICE STORM • 
Coming Soon …
The New York Nighthawks series continues with ICE FURY!