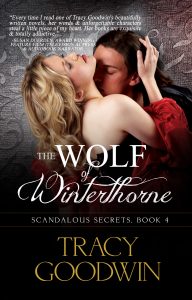 Logan Ambrose has endured a tortured existence. After learning how to fend for himself at a young age, he eventually amassed power and wealth. His fortune came at an extreme cost, as rising from poverty often does. Branded, he wears his sins on his marred flesh. Each scar represents a past he doesn't wish to remember, the ruthless man he holds at bay, the tortured soul who would do anything to survive.
Bruised, battered and bloodied, Arabella Sutton is a woman lost. With no recollection of who she is or what terrors she suffered, she stumbles onto the imposing Winterthorne estate running from those who hunt her, haunted by the memory of her bloodied hands holding a blade and wearing a bracelet monogrammed with the initial S.
When she staggers into Logan's arms, he recognizes her instantly. She is one of two women he once knew: Arabella or her twin sister, Sybil. One he dared to love years ago, though he now despises them equally. Logan recognizes her bracelet as belonging to Sybil … the last woman he wished to see.
Drawn to the brooding and menacing master of Winterthorne who knows much more about her past than he is willing to admit, Arabella must overcome the loss of her memories. Meanwhile, Logan is assailed with recollections of his lost love whilst offering protection to the woman he believes to be her vicious sister, the same woman who once reveled in making his life miserable, as he struggles against the strong attraction that pulls him towards his charge and the reminders of Arabella that she rekindles in his hardened heart.
When Arabella pieces together her past, scandalous secrets come to light and Logan will stop at nothing to save his beloved from the dangerous machinations of her evil identical twin. Together, Logan and Arabella rekindle a romance they long thought extinguished while concocting a grand scheme to unmask Sybil and free Arabella from her sister's misdeeds.
Can they protect Arabella from peril and assure their future before it is too late?
Scandalous Secrets Series

The International Bestselling Scandalous Secrets series is available in all formats, including eBook, Audible download, Audio CD, and print!
---
Sign up for updates through the Tracy Goodwin contact form or join her fan club by clicking on the Lantern Ladies fan club image below:

Coming Soon:
The Christmas Countess – Mistletoe Matchmaker, Book 1
Could the seventh

Earl

of

Fairfax's matchmaker be his one true match? Find out when the story

of

Oliver Wainright and Cordelia Hollis is released Autumn 2017.